OUR STRENGTHS
The extensive knowledge and advanced technical capabilities we have built up over 50 years enable us to provide comprehensive engineering and consulting services in a wide variety of fields.
We approach projects with the ability to take action flexibly in step with the times and our advanced technical capabilities, we also excel in comprehensive engineering and consulting approaches to projects by drawing on our broad knowledge of civil engineering, architectural engineering, environmental engineering, and biology.
We have extensive experience in a variety of fields from management to planning, environment, construction, urban development, and more.
We have been, and will continue to be, a company that builds the future through the kind of comprehensive construction consulting that helps support society.
STRENGTH 01
Creating a society for the future through our comprehensive power
We envision the future
As a comprehensive construction consultant, we provide engineering services that cover every process from research to planning, design, and maintenance in a wide range of fields that include roads, transportation, bridges, rivers, ports, water sewerage and supply, urban planning, and the environment, both in Japan and abroad.
The field of construction consulting requires a broad knowledge and a high level of expertise. We strive to offer our services with our many experts capable of engaging not only in civil and architectural engineering, but also in peripheral fields such as environmental engineering, landscape design, and biology.
As professionals, each and every one of our engineers also aspires to "realize the future themselves," and based on this mindset, we utilize our comprehensive power to contribute to realizing communities where future generations can live with safety, security, and prosperity.
STRENGTH 02
Trust and achievements backed by a 50-year legacy, combined with extensive knowledge and technology
We have engaged in construction consulting for around half a century.
In the turbulent times spanning from Showa to Heisei and now Reiwa, we have continued to provide infrastructure development that supports the foundations of safety and security in people's lives―including the Tokyo Gate Bridge, an iconic Japanese structure―in response to the ever-changing demands and requirements of the times.
We will continue to provide infrastructure not only in Japan but also overseas, drawing on our accumulated experience and insight to respond to new needs in and outside Japan from the perspectives of both "creating" construction as in the past, as well as "protecting" through maintenance, upgrades, and disaster prevention measures.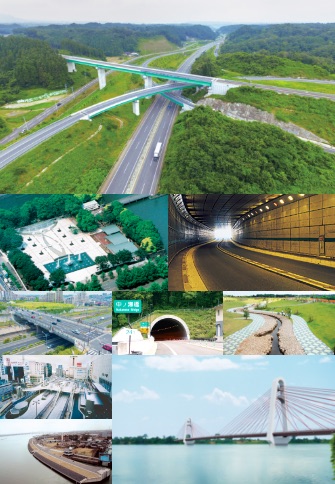 STRENGTH 03
Developing human resources into "human capital," and growing together with our employees
It is our management philosophy to "live up to the trust placed in us by clients through advanced technology and the ability to act with sincerity and passion, and contribute to society through the provision of advanced technical services". To contribute to society through infrastructure development, every one of our employees is dedicated to working towards the same goal and improving their skills to meet the ever-changing technologies and issues.
Since we consider employees to be our most important assets, we focus on developing human capital capable of flexibly handling diverse and complex issues. To facilitate the development of professional teams, we strive to ensure an environment where employees are self-motivated to improve themselves by providing support for acquiring professional certifications such as Professional Engineers and by enabling support from colleagues, such as through OJT where younger employees can receive guidance from more experienced staff.
We believe that the healthy work and growth of our employees under a variety of working styles is instrumental in the sustainable development of the company and ultimately its future growth.
SERVICES
Comprehensive engineering and consultation of a variety of infrastructure development projects
Globalization challenges today's international community to take on a new form and face numerous issues: wealth disparities, ethnic and religious conflicts, war, terrorism, freedom/civil liberty/democratic oppression, environmental issues, infectious diseases, and gender inequalities. Relying heavily on imported resources, energy and foodstuffs, Japan must play a crucial role in the international community as a beneficiary of international trade. At Central Consultant Inc., we as a construction consultant provide engineering services that cover your entire project process, from surveys to planning, design and implementation management, in a wide range of fields including roads, bridges, rivers, urban areas, disaster management, and more, all to contribute to establishing social infrastructure toward international stability and development, as well as sustainable development.
Roads and Highways
●Planning, Survey, Design and Supervision ●Planning and Design of Auxiliary Facilities ●Survey and Analysis for Earthwork ●Study, Analysis, Experiment and R&D on Road Surface
Detailed Design and Construction Supervision for Route 8 Rehabilitation Project, Ghana

Detailed Design and Construction Supervision for Road Improvement Project II in Zonapaz, Guatemala

Detailed Design and Construction Supervision for Road Improvement Project II, Paraguay

Detailed Design for Tomiya JCT Construction Project, Japan
Bridges and Civil Engineering Structures
●Planning, Survey, Design and Supervision ●Inspection and Soundness Evaluation ●Study, Experiment and R&D
Basic Design, Detailed Design and Construction Supervision for Awash Bridge Replacement Project, Ethiopia

Basic Design, Detailed Design and Construction Supervision for Santa Fe Bridge Construction Project, Nicaragua

Basic Design, Detailed Design and Construction Supervision for Sekong Bridge Construction Project, Laos

Basic Design and Detailed Design for Tokyo Gate Bridge Construction Project, Japan
Tunnels
●Planning, Survey, Design and Supervision ●Planning and Design of Tunnel Ventilation System, Lighting Facilities, Interiors, etc. ●Tunnel Maintenance Planning, Repair and Reinforcement
Detailed Design for Tsutsujigaoka Tunnel Construction Project, Japan

Detailed Design for Sawano Tunnel Construction Project, Japan

Detailed Design for Himi 3rd Tunnel Construction Project, Japan

Detailed Design for Gonbei Tunnel Construction Project, Japan
Traffic Planning
●Road Network Planning ●Urban and Rural Traffic Planning ●Surveys, Analysis and Simulation for Traffic Behavior ●Traffic Demand Forecast ●Traffic Surveys and Analysis
The Study on Urban Transport Improvement in Baku, Azerbaijan

The Study on Urban and Regional Comprehensive Transportation Strategy, Japan

Transport Node Planning, Japan

Regional Public Transportation Planning, Japan
River and Coast
River ●Runoff Analysis, Flood Inundation Analysis and Groundwater Analysis ●River Channel Planning and Urban River Planning ●Planning and Design of River Dike, Sluice, Diversion Weir and more.
Coast ●Coastal Survey, Wave Analysis, Nearshore currents Analysis, Beach Profile Change Forecasting, and Coastal Protection Planning
The Study for Coastal Erosion and Flood Control Management, Seychelles

Detail Design for Meguro River Embankment, Japan

Detail Design for Detached Breakwater in Kochi Coast, Japan
Water Supply and Sewerage
●Planning and Design of Sewerage Facilities ●Planning of Urban Storm Drainage Network ●Planning and Design of Water Supply Facilities
Design for Installation of Water Pipe, Japan

Detailed Design for Nagamachi 1st Pump Station, Japan

Basic Design for Yokouchi Water Purification Plant, Japan
Disaster Management
●Survey on Road Disaster Prevention, Planning and Design of Road Disaster Prevention Facilities ●Survey and Planning for Sabo Facilities ●Flood Control Management
Basic Design, Detailed Design and Construction Supervision for Landslide Prevention Project in Tegucigalpa, Honduras

Road Disaster Prevention Project (Bishkek – Osh Road), Kyrgyz

The Study on Preventive Measures against Road Disasters, Bolivia
Environmental Management
●Environmental Impact Assessment ●Resettlement Action Plan ●Environmental Survey for above Sectors
FEATURED PROJECTS
Detailed Design Study of Construction of a New Bridge across the Volta River of the Eastern Corridor Project in the Republic of Ghana

Highly anticipated as international truck road, the planned Eastern Corridor must cross the Volta River dissecting Ghana with massive catchment. To cross the river at the width 500m and depth 8m, we designed this 3-span continuous steel cable-stayed bridge, with 280m central span. It uses Japanese technology such as SBHS steel, high durability steel plate and steel pipe sheet pile cofferdam./p>

The Study for Coastal Erosion and Flood Control Management in the Republic of Seychelles

Prepared coastal erosion and flood control management plan for the Seychelles. Pilot projects selected for their urgency include designing and construction supervision of ca. 50m jetty and drainage at the river mouth for preventing coastal erosion, sand drift as well as tidal water from flowing into the drainage.

The Project for Construction of Sekong Bridge on NR16B in the Southern Region of Laos

Planned, designed and supervised construction of 300m-long PC 4-span continuous box girder extra-dosed bridge on NR16B in southern Lao connecting Vietnam, Lao and Thailand. The effects range from resolving divided accessibility during flood evets as well as improving logistics and accessibility to social infrastructures. The bridge's design is both esthetic as monument and functional as gateway.

The study on urban transport improvement in the City of Baku in the Republic of Azerbaijan

Post-Soviet era Azerbaijan suffered from economic decline. We formulated an urban transport Master Plan for the capital Baku comprising reconstruction of public transport, road and bridge construction, control of traffic and improvement of urban environment.

The Landslide Prevention Project in Tegucigalpa Metropolitan Area in the Republic of Honduras

Tegucigalpa is susceptible to floods and landslides from rainfall. For structural measures, the project carried out catchment well construction, boring work, waterway construction, removal and filling of soil. For non-structural measures, it prepared landslide monitoring equipment and warning and evacuation standards among other things.

The Road Improvement Project (II) in the Republic of Paraguay

In Paraguay, 90% of freight relies on ground transport. However, only 12% out of 59,000km total road length is paved, preventing smooth transport of agricultural and livestock products, major exports of the country. With JICA's assistance, the Government of Paraguay has been implementing road improvement project, in which we are undertaking 617km-long road rehabilitation, reconstruction of pavement, and road widening.
PROFILE
Registered Name
Central Consultant Inc.
Established
January 30, 1967
Head Office

Harumi Center Building 10F, 2-5-24 Harumi, Chuo-ku, Tokyo 104-0053, Japan

TEL: +81-3-3532-8031 FAX: +81-3-3532-8022

E-mail: central@central-con.co.jp

Capital
130 million yen
Registration

Construction Consultant (KEN-01 No.1043) by the Minister of Land, Infrastructure, Transport and Tourism, Government of Japan.
Registered services: Road and Highway Engineering, Steel Structure and Concrete Engineering, Tunnel Engineering, River, Erosion Control and Coastal and Ocean Engineering, Construction Environment Engineering, Harbor and Airport Engineering, Urban Planning and Regional Planning, Sewerage Engineering, Water Supply and Industrial Water Supply Engineering, Landscaping and Gardening, Soil and Foundation Engineering, Geological Engineering, Construction Planning, Construction Equipment and Cost Estimation
Geological Survey Business by the Minister of Land, Infrastructure, Transport and Tourism (Shitsu-01 No.1491)
Survey Business by the Minister of Land, Infrastructure, Transport and Tourism (No.(6)-23060)
First-Class Architect Office (Tokyo Governor Registration No.7583)
Measurement Certification Business, sound pressure level (Tokyo Governor Registration No. 745)
ISO9001

Board of Directors

President
Kazuyuki Kihara
Executive Director
Kenichi Nakata
General Engineering Manager and TOKYO Division Director
Executive Director
Yoshitaka Higuchi
OSAKA Branch Manager
Executive Director
Keiichi Uehara
General Manager
Directors
Takumi Yagihashi
Product Quality and Cooperate Planning Manager
Directors
Yasunori Mitsumori
TOHOKU Branch Manager
Directors
Hiromi Doi
CHUBU Branch Manager
Directors
Ichiro Ogawa
KYUSYU Branch Manager
Directors
Kunihiro Arai
HIROSHIMA Branch Manager
Directors
Tsutomu Yamashita
INTERNATIONAL Division Manager
Outside Directors
Keiji Ide
Yasuyuki Kawai
Outside Directors
Yoshiki Okamoto
Auditor
Takashi Kitagawa

Turnover
11,772 million yen (FY 2020)
Number of Employees
517 (as of April 1, 2021)